Saying good-bye to Melbourne and my friends wasn't easy. Four and a half weeks had gone by quickly. I was however very much looking forward to New Zealand as I had never been there before but had only heard good things about Aotearoa, "the land of the long white cloud". Accordingly my expectations and excitement were very high.
An Air New Zealand aircraft, painted with motives from the new New Zealand movie The Hobbit, brought me safely to Auckland. A short bus ride later I met Manni at the Nomad Fat Camels Backpackers. He had scraped up all his annual leave to join me for six weeks and had arrived a few days earlier.
We caught up on the latest travel stories and gossip from back home over a midnight snack and soon found ourselves only a few hours from flying to Christchurch the next morning.
We picked up our rental at the airport, an aged Nissan Sunny. It certainly wasn't the fastest car but clearly had seen the world – and it was a real bargain! Then we checked in at the clean and cosy Dorset House Backpackers and started making plans. And we were expecting another fellow traveler: I had been able to convince Ariel, Julie's Cousin from Melbourne, to join in on our adventure.
Christchurch had once been a city with a nice historical center, however in February 2011, a disastrous earthquake had flattened most of it.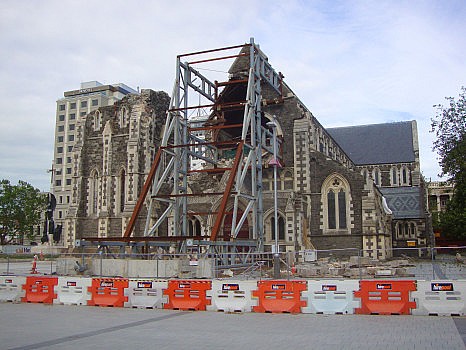 Large areas of the city center are still blocked off due to sever risk of collapse. Clearing work is still ongoing and will most likely last for quite some while.
Literally out of the ashes, a new type of city has emerged: in order to allow something like a normal life, containers had been set up and are now housing restaurants, shopping centers, bars and banks.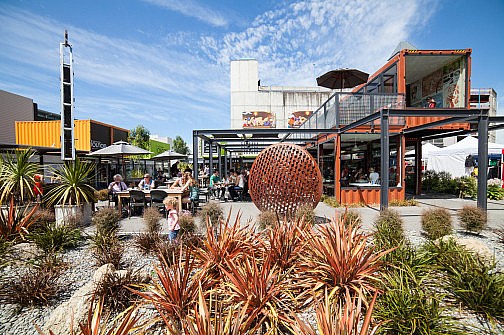 The colorful containers have become a real tourist attraction as well as the new city center.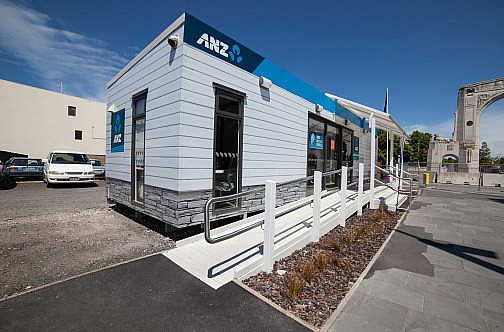 It certainly takes a while to get used to this odd look and feel. The ruins on one hand are a sad reminder of destruction and loss, the city's attempt to escape from this misery is however very uplifting. To compensate for some of the losses, another project has produced an interesting set of locations: Gap Filler can be found all over the city.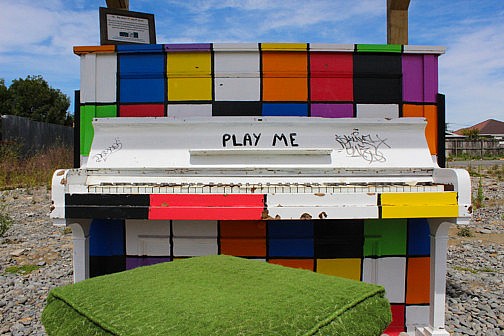 Gap Filler aims to temporarily activate vacant sites within Christchurch with creative projects, to make for a more interesting, dynamic and vibrant city.
After a few days of exploring the city we went for a short drive north to Hanmer Thermal Springs. Unfortunately we had picked an extraordinarily hot and sunny day for this excursion and therefor didn't feel the need for an extended soak in the hot water. But the drive itself through green hills was already worth it, and we even managed a short hike through nearby Hanmer Conservation Park.
Ariel arrived the next day and we didn't waste any time but started with a fully packed Sunny, headed for Banks Peninsular and the little town of Akaroa.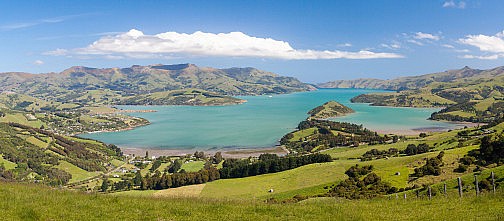 The scenic Summit Road which winds along the hills of the volcanic peninsular offered spectacular views of Akaroa Bay and the Pacific ocean.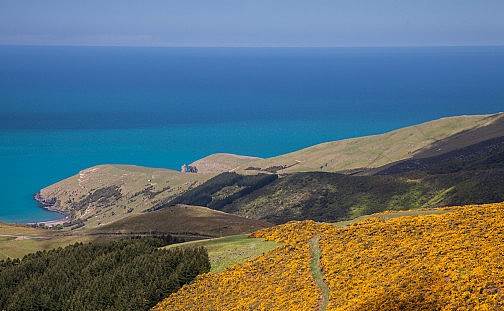 When we drove into town for lunch it became immediately apparent that the French had played a greater role in Akaroa's history: half the street names were French, and nearly all of the neat colonial houses displayed the tricolor. Only around 750 people live permanently in Akaroa, however in summer this number can increase to over 10000 when the Kiwis are drawn to the country on weekends and during holidays.
Satisfied after a huge burger with the lot and a mediocre coffee we made our way to Pigeon Bay for a night in our tents.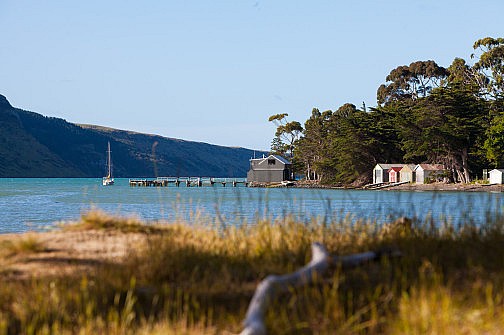 Pigeon Bay Walkway served as a warm-up hike across green hills and through flocks of sheep. The scenery was not the New Zealand I had expected but nonetheless it was quite beautiful.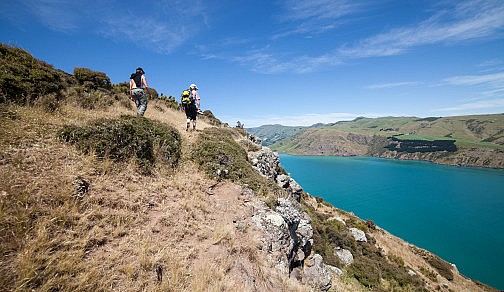 After this short stop-over we continued our journey south, following the Scenic Inland Highway past sleepy towns and more sheep. Lupines were in full blossom and added a nice touch of colour to the meanwhile rather grey weather.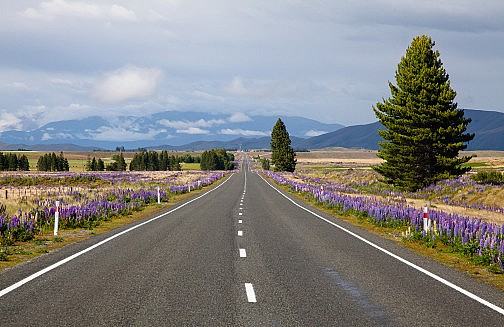 We also passed several amazingly coloured lakes, especially Lake Tekapo was a real beauty even though the ski resort looks rather ugly without snow. But the great views across the lake made more than up for that.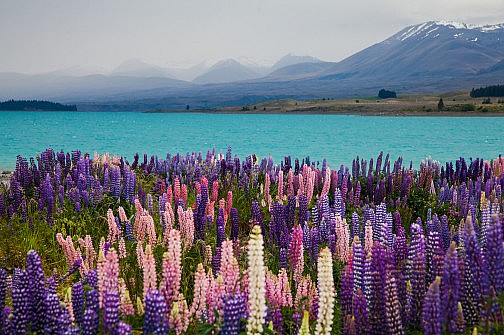 We spent a night camping by the lake and woke up to a slight drizzle. The drive through the high country of Otago made us feel like part of the Lord of the Rings and I almost expected one of the hobbits to cross the road.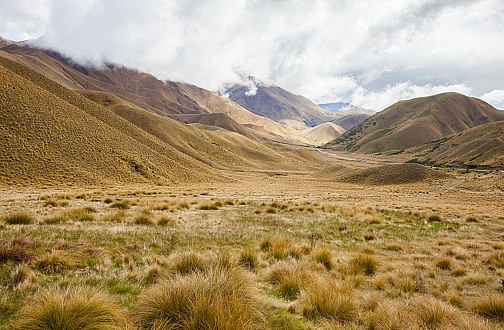 We eventually arrived in Queenstown and went staight to the DOC office to gather some information regarding our hiking options. After some debating we finally settled for a combination of two different treks: Greenstone and Caples which made for a nice three day circuit.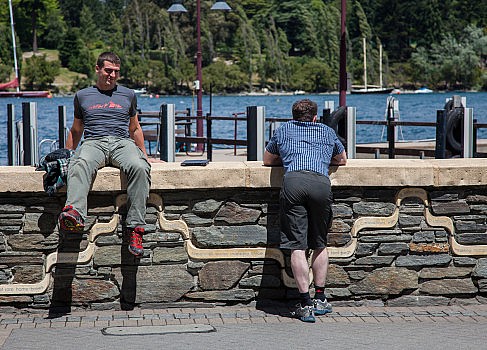 We spent the rest of the afternoon in the sun, enjoying some coffee and listening to an awesome street musician by the water. We then drove another two hours to a camp site shortly before The Devine where we would start our first real hike.