From Cradle Mountain I drove back to Launceston, where I stayed one more night at the City Backpackers. From there I went on back to the east coast. The weather had improved quite a bit and I wanted to give the beaches of Freycinet Peninsular another try.
Due to the exceptionally bad weather that we had experienced throughout the drive to Launceston a week earlier, I hadn't actually stopped at any of the waterfalls and lookouts on the way across the countryside. With a little more sun and much less rain I was now able to get out of the car without being soaked after a few moments. I stopped at Ralphs Falls and St. Columbine Falls, which both can be reached after short walks through rainforest. The falls themselves are actually not that great but the walks are still worth it.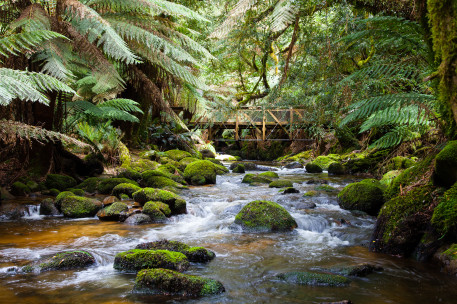 Upon reaching the coast I stopped at Binalong Bay in the Bay of Fires area for Lunch and enjoyed the sun for a little while, sitting on shiny white sand.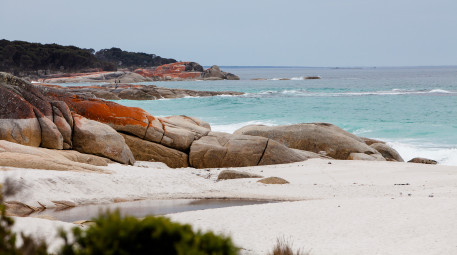 Beach after beach came and went, and eventually I passed Bicheno again and reached Freycinet National Park. This time however I didn't stop there for the night but set up my tent at Friendly Beaches where I found a great spot between beautifully colored cliffs on a patch of sand.

Once again the scenery was stunning and there was pretty much no-one else around.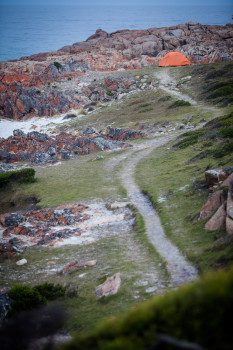 Only some local guy was trying to catch his dinner but already within the first five minutes he lost his hook so he turned to the beer instead. While we chatted, the sun began to set and boy what a sunset that was! The colors in the sky ranged from red through purple and pink to orange and more, while the water had a green-blue-ish glow to it. Amazing! It is difficult to put it words so I let the pictures speak for themselves.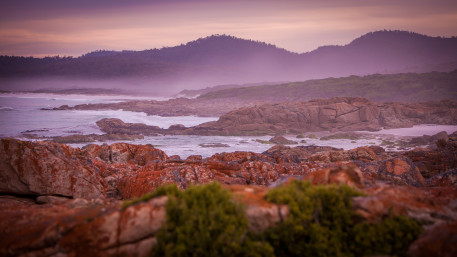 An evening like this is what I call a perfect ending to a great trip!
Well, not quite the end yet as I still had almost a day to visit Freycinet National Park again. This time the weather was good when I entered the next morning. I took the standard path into the bay, passing a nice lookout on the way.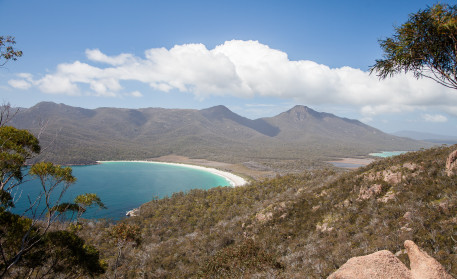 Once you hit the beach you know why this places draws millions of people here: a perfectly shaped bay with clean white sand, calm waters, surrounded by lush green and colorful rocks. It can not get much better!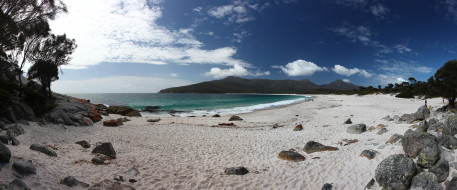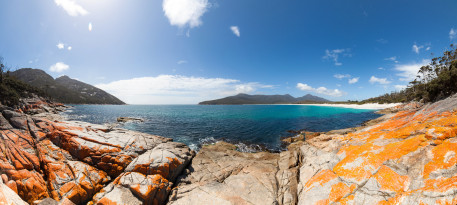 From Winegalss bay it is a short walk across the Hazards Swamps to the other side of the peninsular, where another beach awaits you.
Promise Bay which is home to Hazards beach, the much less famous but not much less beautiful sibling of Wineglass Bay. However since it is not nearly as crowded, and the water is even calmer and more colorful, it is definitely worth the short extra walk.

Following the Hazards Circuit I looped back towards the car past some smaller bays at the end of Hazards Beach.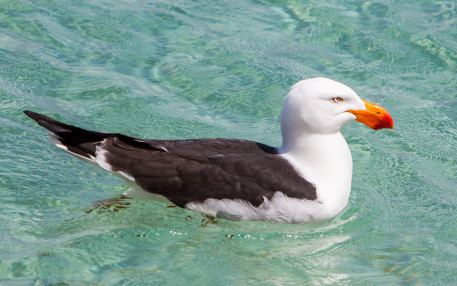 Well, and that was it! Two weeks in Tasmania were already over and I made my way back to Hobart to catch the plane to Melbourne. It was a great trip and I really hope to be able to come back one day to venture into the more remote wilderness. But this has to wait until another journey down under.